Mr Hoang Tri, Vo – A young and talented student from Faculty of Applied Sciences.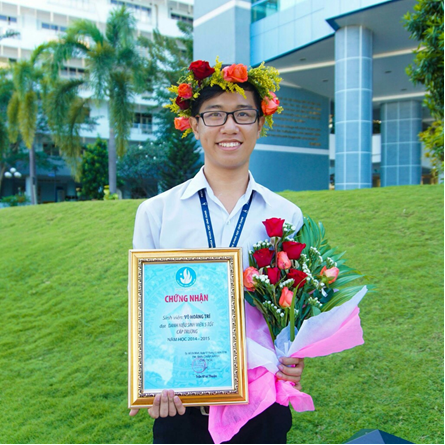 From Tien Giang Province with a burning ambition and the love with Chemistry, Mr. Hoang Tri, Vo has his career heading toward to the Chemical Engineering Department – Faculty of Applied Science right after his high school graduation. Generally, Chemical Engineering is a serious major which the dedication of study and hardworking spirit is definitely required, yet Mr. Hoang Tri, Vo completed all the courses with notable results and unyielding working attitude. Currently, Mr. Hoang Tri Vo is a moderator of his academic company – First Chemical Engineering Class 17th, Faculty of Applied Sciences. Accordingly, He has a real job that includes lots of pressure, however, with the help from guidance lecturer, classmates, and friends, Mr. Hoang Tri Vo has not only provided a good performance in class but also did his best as a moderator of the class.
"Ton Duc Thang University - a very modern learning environment, very professional working style, professional method of training students has helped Tri succeed and get better day by day. In that manner, the enthusiasm and profound interest of the teachers in the faculty, as well as the people around, is also one of the things that made me feel great being a student of Faculty of Applied Sciences of TDTU. – Mr. Hoang Tri, Vo shared.
By Duy Thanh (FAS public information team)