To Honor the Ex - student
The director Vo Quang Long: "If you want to success, you must to venture"
Debts were up to 400 million VND in the first start-up, life went into a standstill, but Vo Quang Long (born 1982) still managed to run to Tri Minh Phat Co., Ltd (Bien Hoa City). From a car wash shop, Tri Minh Phat has become a multi-disciplinary "complex" from petroleum, automobile repair to taxi transport, passenger transportation with more than 400 people. In 2016, Tri Minh Phat's total revenue reached 150 billion. The story of young entrepreneurs Vo Quang Long brings many lessons for young people in business.
The shock of life and the experience of the market
In 2006, after graduating from Ton Duc Thang University with a degree in Chemical Engineering, then "rolled over" a time in Ho Chi Minh City. Ho Chi Minh City, Long requested to work in Dong Nai Petroleum Company, business department. Three years later, Long resigns because he thinks "the working environment is unsuitable, lacking creativity in comparison with his own needs". At age 27, Long opened his own company, named Tri Minh Phat at Bui Van Hoa Street, Long Binh Tan Ward specializing in trading motor oil. "It's a company, but at that point it has a name to trade. The "3 in 1" type of company, I was the director, both employees and car wash ... because then the headquarters is just a car wash shop selling oil ", Long remembered the start of business.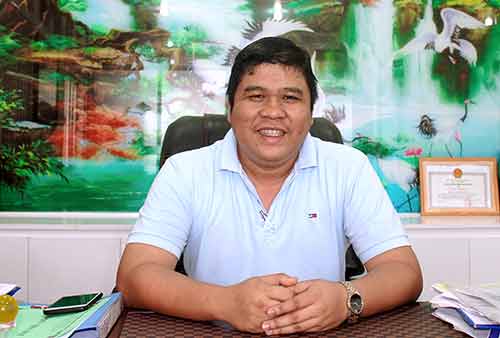 Director Vo Quang Long
Young and have lack of experience but eager to win. Only two years after the company was established, Long paid the price because of the rush to "do big". In 2011, because of the trust of a "close friend", he was nearly "bankrupt" when the fraud was lost 400 million, then both his fortune and borrowed in the early years. The shock was so great that the young man fell into a stalemate, even thinking "hug". Thanks to the encouragement of friends and especially the help of partners continue to provide goods, Long still have the opportunity to "plow" make money repayment. "It took me more than a year to get up. Mistake that reminds me always reminded me to carefully calculate every step, step and especially not too hot to assert themselves that the risk. Because it is easy to make mistakes, "Long said.
Drawing lessons learned, Long cautious but creativity and sensitivity not so that the 'blunted'. In 2012, Long rented a gas station in Vinh Cuu district is losing money to business. This decision is quite adventurous because at that time, petrol business is difficult because the business agent discount percentage for agents is very low, many private gas stations closed, even sell off.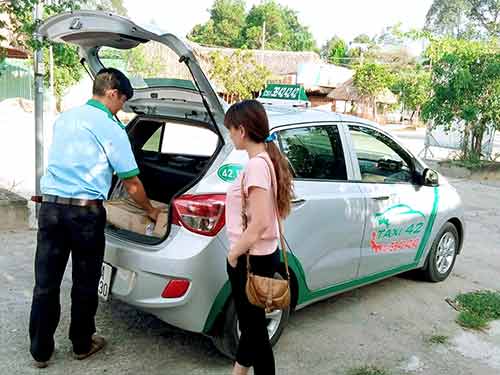 The brand name of Taxi 42 belongs to Tri Minh Phat Co., Ltd
From Company culture promotes cooperation "With Tri Minh Phat, corporate culture is no one's job for anyone but cooperation. Members contribute to the development of the company. I contribute money, means you contribute labor to work together to benefit each other. Tri Minh Phat means wisdom, transparency and development so it will be a favorable environment for those who have talents. Good performance will be recorded and promoted in the work, "Vo Quang Long shares.
To become "closed" business
As the business of petrol and oil grows and many businesses find it difficult to repair and maintain their vehicles, especially for trucks, they think of opening the workshop. Car service for customers. In mid-2014, Dai Tien Auto Auto Co., Ltd 42 (a subsidiary of Tri Minh Phat) was born.
Anyone who has the opportunity to go to Gate 1 in Trung Dung will meet a large workshop that Vo Quang Long hired on an area of up to 15,000m2. This is a workshop for repairing and maintaining all types of cars with the number of permanent workers 60 people.
Not stop there, by the end of 2016, Tri Minh launches the brand name Taxi 42, the youngest taxi company in Dong Nai. With a large initial capital, this is a venture investment decision but very carefully calculated by Vo Quang Long.
"In the taxi business, according to calculations gasoline accounts for 50% of the cost, about 20% of the car depreciation, maintenance, the rest are other costs. We are both a supplier of petroleum, and repair of cars will reduce the cost very large. Meanwhile, the opportunities for taxi service development in Bien Hoa and Dong Nai are still high. The obvious advantage is why not participate in this market, "Long shared about the decision to" jump "into the taxi market.
At the launch, Taxi 42 Long invested 40 units of Huyndai, car according to the family version. The opening had a price of 3.000 VND for the first 0.5km is considered to be the cheapest price and attract many people. Only about 3 months later, Taxi 42 is accepted by customers because the quality of new cars is quite good, rates are cheaper than many carriers in the market. "I just know and often go to Taxi 42 for a few months now. I see cheap rates, new cars that staff are very friendly" Nguyen Thi Mai said, a frequent passenger car comments.
Thanks to the closed business from its parent company, Tri Minh Phat, Taxi 42 has doubled the number of vehicles, 120 units, only six months after launch, in line with the initial strategy. . "At present, Taxi 42 has been approved by the Department of Transportation and Transport, allowing us to increase the number to 250 vehicles and cover the districts of Long Thanh, Nhon Trach, Tan Phu and Dinh Quan. , Xuan Loc ... In the coming time, there will be a lot of work to be put into the company to continue to grow strong. Certainly, the problem of optimizing costs, taking advantage of business will always be a priority, "Director Vo Quang Long talked about the future plans.
Hired is ... preparing to start a business
According to Director Vo Quang Long, many young people when starting a business also weighed the factor to be "boss" immediately. It is a legitimate desire, promote independence of the self but the reality is that many young people "collapsed" when standing alone, not enough "force". From his experience, Long said that before starting his own business, there should be time to "hire" for other businesses. It will be the environment to build relationships, experience experience, find the real strength of yourself. From there, it will be easier to achieve better results.
Student who want to know more about the journey and start the success of Mr. Long read this article offline: http://www.laodongdongnai.vn/Kinh-te/Doanh-nghiep/6B025C/giam-doc- 8x-vo-ray-long-bar-cong-fai-dam-mao-hiem.aspx